Photographers leave but their pictures remain. This is a story of a boy who started to dream of becoming a photographer when he was seventeen and who has been following his vision for more than forty years. His Cuban trilogy documents the everyday life of Cubans and tells the story of a man who fell in love with the island. Ernesto Bazan's work is a visual poetry translated into his pictures.
What was the beginning of your photographic journey?
I started young, when I was fourteen years old. I asked my father for a camera and he eventually bought me one. Neither one of us had any clue of what that purchase meant in my life. Then at seventeen, I had a dream. I heard a voice in my sleep whispering a few words:" You need to be a photographer." The next morning I remembered the dream and told my parents what my future profession is going to be. I can say that I've been taking pictures for the last forty years!
Did you have any photographic icon or mentor who influenced you and your photographic vision?
You just begin taking pictures following your intuition having no idea where this personal journey will take you. My spiritual mentor is and will always be Robert Frank.
What do you think about the recent trends and conceptualism appearing more and more in the field of documentary photography?
I just do my work without paying too much attention of what is trendy out there. I continue to follow my path faithfully through teaching my workshops and taking new images which if I'm lucky, one day, they will become part of future books. The pleasure of taking images continues to stay with me!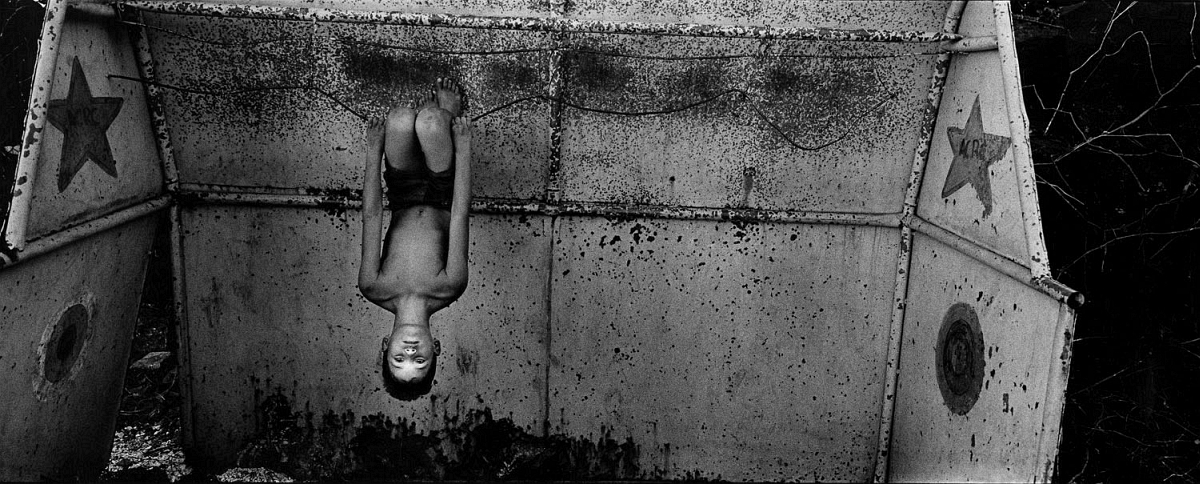 You won the World Press Photo. What do you think about today's "fast" photojournalism?
It was 1995 when I received a phone call in the middle of the night in Havana, announcing me that I had won the first price in the Daily Life category with my Cuban images. What is the most scary about today "fast" journalism is the ability and possibility to manipulate your images.
The book "Before You Grow Up" captures and uncovers your intimate life. Was it difficult for you to make it?
Yes, it was difficult because it dealt with the most intimate part of my life: my family. It took me seven years to bring it to light. Although the book has a positive ending wishing my twin boys Pietro and Stefano a fulfilling life, I also had to come to terms with my father passing, which has been the single most difficult moment in my life up to date. The book represents a departure from all my previous ones because I used drawings, snapshots and memorabilia just as a family photo album looks like. Some of my students keep telling me it's the best I've done so far! For me it's very important that the book is finally out and that my mother, brothers, my beloved Sissy, Pietro and Stefano have all dedicated copies of it.

You are a photographer and publisher at the same time. Is it manageable at all?
Being a photographer is very difficult. Being a publisher of a small books production is very difficult. Difficulty has never stopped me and I'll continue to self-publish books of both mine and talented photographers who have studied with me untill I have the energy to do so! Along with many of my students we feel very proud of what we are doing!
Did Cubans accept you and let you photograph their personal stories?
The book represents my personal and intimate vision of my life there. It also conveys at the same time how Cubans felt about themselves and the life they had and how I felt about them and myself living and taking pictures for fourteen years. Most people were very generous and open to be photographed. I love it so much there and I strongly believe that I must have lived there in another life.
You were forbidden to continue working in Cuba after fourteen years. What happened? What happened and how did you deal with that?
One day I was told that I could no longer teach my workshops. Since they are one of the best things I've done in my life, we just decided that it was better to leave!
You are a very soulful person. Where are the roots of your spirituality and where does it come from?
In the strong devotion to the Virgin Mary and my faith in God. The more my belief becomes stronger, the more spiritual my images become along with the workshops. It's quite uncanny to see that happening more and more lately. As I like to say, learning to take better pictures in my workshops is just an excuse for us to get together at a deeper level!
How do your family members feel about all the travelling and being long time apart from each other?
It's not easy, but over the years we have managed to deal with it in a positive way. I'm proud and happy of the nurturing relation that I have with my family.
Can you explain me the place of color and panoramic pictures in your work?
In 2001, while I was still living in Cuba, I began taking pictures both in color and with the panoramic camera. I just loved new toys, new challenges that life was giving to me. I spent the last five years of my life on the island carrying three cameras with me all the time. I had no idea that I was creating two new bodies of work that would eventually become Al Campo and Isla. I think the beauty of taking pictures is not worrying what you will be doing with them. As I like to say, when my pictures are ready to come out they let me know!
What does the work with your students bring to you?
Much joy and good friendships, and much inspiration!
Ernesto Bazan (*1959) is an Italian photographer born in Palermo (Italy), currently living in Jersey City (New Jersey, USA). The theme of his photographs is a critical documentary depicting the daily life of an ordinary person. He is author of several books: The Perpetual Past (1982), Passing Through (1993), The First Twenty Years, Island, Molo Nord. On behalf his own publishing house BazanPhotos Publishing, he published two other books, Bazan Cuba (2009) and Al Campo, which together with the book Island make up a trilogy capturing the life of the Cuban people. During 1992-2006 he lived and photographed in Cuba, where he documented a unique period of Cuban history entitled "The Special Period." He won several of the most prestigious photography awards, including World Press Photo's first place in the Daily Life category. Since 2002 he has been doing photographic workshop where he educates those who have become passionate about photography. His photographs are exhibited in Europe, Latin America and the USA. Ernesto Bazan also organizes successful workshops around the world. More information about his workshops here.