There will always be someone better. Every photojournalist I have ever met says this. There will always be someone better so the work you do needs to mean something. Anyone can take good pictures, but it takes a great deal of time, work, and caring to tell a story that is deeply impactful. I truly believe this sentiment. Call me an idealist (you wouldn't be wrong), but I think this sentiment is not only true, it holds the key to addressing some of the issues that we are facing now.
I keep thinking about long term photojournalism, whether it is staying and working in a neighborhood for an extended period of time, like Zoe Strauss, or working on a single story for years, like Stephanie Sinclair or Donna Ferrato; this is the work that I believe could help us as an industry come back to center. I also recognize that there are a number of issues with doing this kind of work and they manifest themselves in two ways; the necessity for spot news and the issue of objectivity.
We as photojournalists have a responsibility to be as objective as possible. That is what the public relies on us to do — to provide objective information so that they can make informed decisions. There has been a long debate in the photojournalism industry as to whether or not objectivity is an attainable goal. By virtue of a person taking photographs the work is naturally subjective. But I believe that a kind of objectivity (or rather, transparency) can be reached in even the most intimate of projects. As David Alan Harvey puts it, "You have to be honest about what you are doing." Be honest about the work you are doing, your proximity to it, and the goals you have for the project. By providing the context for how you created the work, you can provide the context of the work itself.
When it comes to spot news, objectivity may be less of an issue to some degree. A photographer or videographer goes in, creates good images that tell the story, typically works with a writer, as well as an editor who organizes the work, and the whole thing is piped out to the public on the 24 hour news cycle. There is an obvious need for this work. This work is not the problem right? I think we all know the answer to this question…
Let's go back to the 2016 election. I know! I know! I am sorry! I don't want to think about it either, but this election actually plays a big role in the problematic trends in our industry. Back in October of 2016, it was reported that the president of CNN, Jeff Zucker, regretted giving now president Donald Trump so much airtime, stating,
"If we made any mistake last year, it's that we probably did put too many of his campaign rallies in those early months and let them run," Jeff Zucker said at Harvard Kennedy School, according to BuzzFeed. "Listen, because you never knew what he would say, there was an attraction to put those on the air." Zucker, who was the president of NBC Entertainment when "The Apprentice" was first on TV said that even then Drumpf was a "publicity magnet." "Drumpf delivered on PR, he delivered on big ratings," Zucker said.
Pay attention to the last part of that statement, "… you never knew what he would say, there was an attraction to put those on the air." And "big ratings." This statement is important because it flies in the face of one of the most important aspects of journalism, providing contextualized and honest information. As I mentioned, the role of journalism industries (and I am using photojournalism, broadcast, and journalism interchangeable here) is to provide educated and contextualized information so that the public can make an informed decision. The 2016 election is a good example of how spot news failed at this tenet.
It is important to remember that context goes both ways. Sure the information was technically more 'objective' because it was being presented without any filter whatsoever, but was it really? The rallies Trump held were full of his campaign rhetoric and undeniable lies and airing them 100% without proper commentary allowed Trump's own subjective position to overtake the media objectivity that needed to be in place. Reporting later that Trump's statements were incorrect or fabricated did little good except to cover the tails of broadcasts.
In addition, Zucker mentioned that, "there was an attraction to put those on the air." But why? That one is easy — Ratings, which = money. Trump is a ratings magnet. He gets us fired up; he makes us crazy; he is a reality TV star — plain and simple. His candidacy and presidency has single handedly spiked newspaper subscriptions.
We little heard of Clinton or Sanders rallies being aired unedited in full and I expect that was because they weren't as financially enticing as Trump rallies. In fact, all the way back in 2015 The Atlantic reported that within 100 days that number of mentions for Trump was calculated at 265,307, while Clinton had 18,979, and Sanders had as little as 3,824. This statistic little changed throughout the rest election.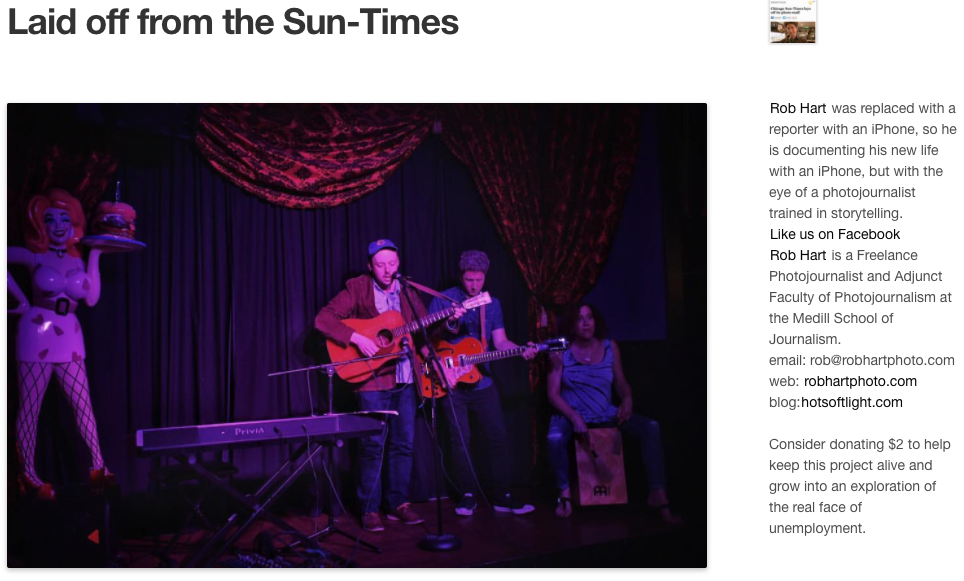 Photo on the right – © Roya Ann Miller.